Personally invite viewers to your upcoming evangelistic series with a high quality, personalized video featuring you, the local pastor/presenter as the host, with the amazing Daniel 2 dream carving! Below is a sample of what your personalized video would look like! 
This is an amazing opportunity to become the face of your video to build trust with attendees when they arrive to your evangelistic series! Each film will be specifically tailored to your location and church.
There will be quick turnaround of 2-4 weeks from the filming date. (First come first serve basis)
You will receive a downloadable HD video file to distribute on social media and other platforms to gain interest in your upcoming event.
Pricing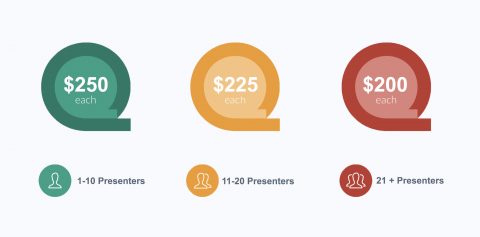 The pricing is determined by how many people sign up. See the Pricing Chart for rates:
The more presenters that sign up, the more you save! Encourage your fellow pastors/presenters to sign up for greater discounts!
Filming Time and Place
Film shooting will take place on Tuesday August 22, and depending on interest Wednesday August 23, in Berrien Springs Michigan. There is a Daniel 2 Statue carved out of a giant redwood tree, which will be located in Berrien Springs, Michigan during the date and time of filming. We have a 40' SkyTrack and harness system that the speaker and cameraman will take to get a unique, up close look at each of the different kingdoms in time. 
Questions, and hopefully some answers!
I'm interested, but don't have time to get board approval for the cost? 
No worries! For a small deposit (around $50) we will film your video at MI Campmeeting in anticipation that board approval will be given. Once it is approved, contact us and we will be begin editing your video.
How soon will I receive my video?
Because this is first come, first serve, it depends on when you sign up. If you are within the first 10 signups, you will likely receive your video by approximately the second week of September. Between 5-7 videos can be completed each week following that.
Do I have to write my own script?
Thankfully, no. We have done the work for you, so each pastor doesn't have to create their own video script. We have crafted this script with social media engagement trends in mind to attract as much interest and as many viewers as possible.
How do I sign up?
Click the button below to let us know of your interest and we'll be in touch with you shortly with how to proceed.